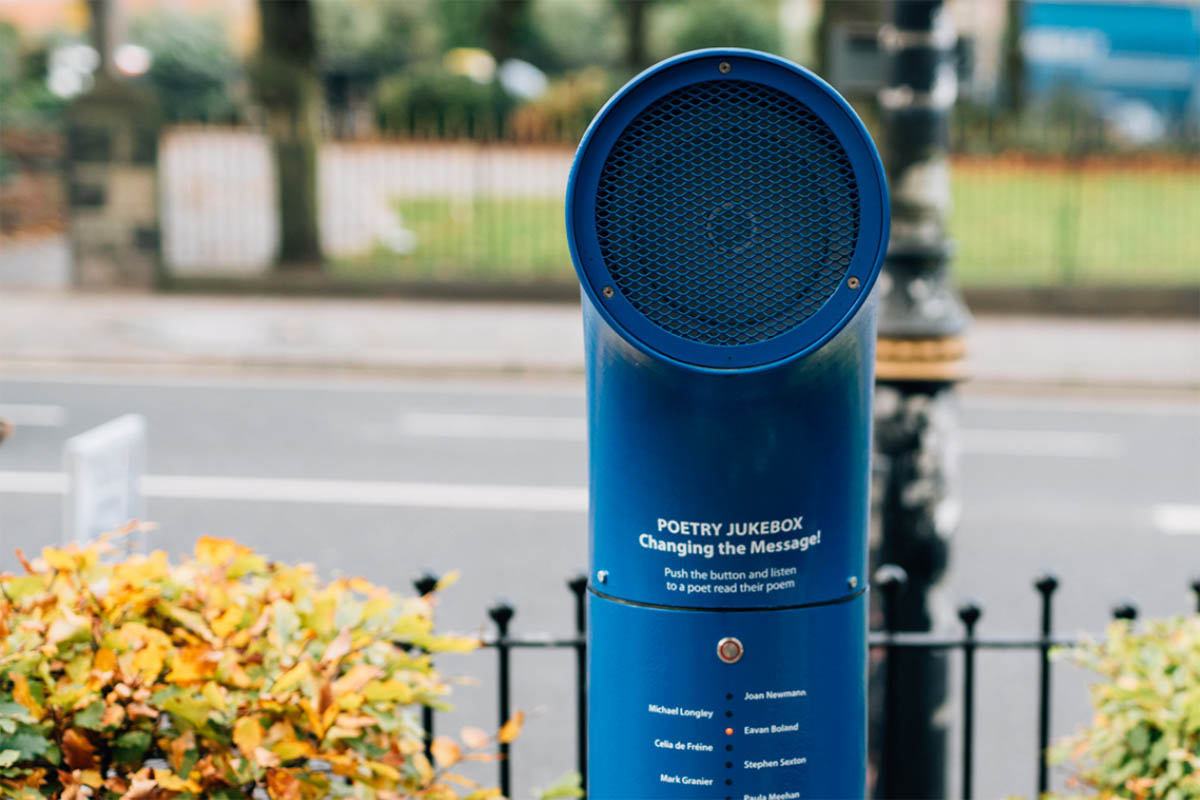 The first Poetry Jukebox in Ireland is located at The Crescent and was launched at the Belfast International Arts Festival in 2017 by Belfast-based poet and playwright Maria Mc Manus. Maria has a passion for bringing literature into the cityscape, so that we can encounter the beauty and imagery of words (sometimes unexpectedly) as we go about our everyday lives; in her own words;
'putting literature where it belongs, everywhere, for everybody.'
She set up Quotidian – Word on the Street with poet Deirdre Cartmill in 2017 as a vehicle to breathe life into that ambition.
The debut curation of poems included leading lights of literature as Eavan Boland , Padraic Fiacc , Paula Meehan, Katie Donovan, Michael Longley and Joan Newmann, in addition to important newer voices such as Mark Granier, Aifric McGlinchey Olive Broderick, Matthew Rice and Seanín Hughes. The Jukebox holds twenty audio files, and a new curations are installed regularly.
Since then, the Jukebox family has grown. Quotidian has a further two 'touring' jukeboxes, which can be installed in venues, streetscapes, hospitals, schools and museums. The Poetry Jukebox Czech partner, Ondřej Kobza , worked with Maria McManus as Quotidian's artistic director to innovate and integrate features which make it more accessible for disabled people. As a former occupational therapist, Maria could clearly see that small changes to Ondřej's original design would make an impact and improve disabled accessibility. 'These are small but repeatable innovations which can be replicated elsewhere,' explains Maria. 'With the support of Belfast City Council and the Department for Communities we now have the first Jukebox in the world which integrates features for enhanced disabled access.'
To read more about the current curation, click here.
For learn more about Poetry Jukebox, click here.