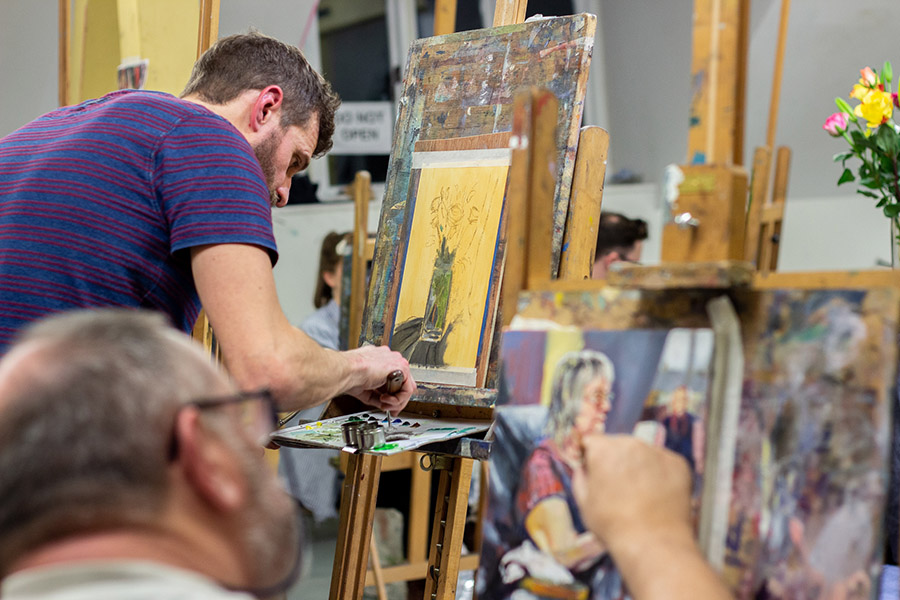 UPDATE: 20th April 2020
Spring Term: Tutor Takeover (4 May - 28 June)
Many of our Customers have been telling us they want to stay connected and stay creative. So rather than simply cancel Spring Term we invited our Tutors to adapt their Course or Workshop for online delivery. Have a browse - we hope you might find something you like!
The model for this Spring Term is a bit different - customers will pay Tutors directly. The Crescent decided not to change our business model completely and adapt a full Term of Creative Learning into a streamlined online offer, but instead focus on what we do have capacity to do - offer our communications platforms to Tutors as a means to maintain engagement with Customers. The Crescent is not paying Tutors, but nor will we take any commission. As a venue, as an institution, our role is as a hub, a convenor, a network - supporting people to keep connected, creative and engaged.
We will keep in touch with you about the Summer Term and beyond. We don't know what our re-emergence will be, but we are listening, we are learning, we are holding close to our organisational values. We really miss seeing you all in person, and we want to find ways for you to stay connected with us. We really miss being in our beautiful building.
Here are a couple of other things to look out for in April and May:
You may have seen on our website that the Belfast Book Festival 2020 scheduled for June is cancelled. We are however proceeding as planned with the Mairtín Crawford Award 2020 for Short Story and Poetry. Submission deadline extended to 13 May! Click here for more information on how to submit your work.
Our Book Festival Patrons - Lucy Caldwell, Paul Muldoon and Glenn Patterson - will be hosted in conversation by broadcaster Marie-Louise Muir as part of Big Book Weekend 8-10 May - a 3 day virtual festival that brings together the best of cancelled literary festivals. Please follow @bigbookweekend and sign up to join the festival (for free) here.
With best wishes,

Sophie
PS If you purchased a Course or Workshop for Spring Term as previously published on our site, you should have received a full refund. If not please contact info@crescentarts.org with the details.
---
UPDATE: 7th April 2020
Sadly, because of the problems caused by the Covid-19 pandemic, the Belfast Book Festival will not take place in June this year. Due to the scale of the Festival, and the inclusion of artists who would be required to travel, we have decided that rescheduling the Festival as a whole is not feasible.
Following in the footsteps of the revolutionary and generous spirit of Mairtín, we are delighted to announce that we will proceed, as planned, with the Mairtín Crawford Award for Poetry and Short Story.
For this edition of the Awards, to underpin our ambition to support writing talent we are making a couple of changes. We have augmented the cash prize for the Winner of each Award to £1,000, and added two runners up Prizes in each category. We have also extended the deadline by a couple of weeks to give us a bit more time to spread the word.
For all the details on this year's Award, including the Judges, please see https://belfastbookfestival.com/mairtin-crawford-award
---
UPDATE: 26th March 2020
Due to the current health emergency please note that we have removed the Creative Learning Spring Term Programme of Courses and Workshops from the website.
To our Customers who purchased a Course or Workshop - we will be in touch ASAP.
To our Tutors - we will continue our correspondence.
All: please make sure you sign up to The Crescent mailing list for updates on Spring, Summer and Winter Terms.
Thank you all for your patience.
Very best wishes,
Sophie
Chief Executive,
The Crescent
26th March 2020
---
UPDATE: 17th March 2020
Given the current situation, we have made the following decisions:
Creative Learning - Winter Term (13 January - 5 April 2020)
In the circumstances you will understand that we have cancelled the remainder of the Winter Term. As of 9am on Wednesday 18 March all classes and workshops have been cancelled. There are a few exceptions - a number of our Tutors have proposed online/alternative solutions. Either The Crescent or the Tutor will be in touch with students directly about this.
To our Tutors and Life Models:
We will be in touch with you separately to confirm, but please note that The Crescent is committed to paying you for the rest of the Term, whether the Course continues to run or not.
To our Participants:
In these challenging and uncertain times we are asking our Winter Term customers to consider donating the last 2 weeks of term to The Crescent to help us support our Tutors, many of whom are freelance artists.
Please go to this link and let us know your preference as soon as possible.
If we don't receive a response by 12pm on Friday 20 March we shall issue a Gift Voucher. We have never had to issue refunds on this scale, so please bear with us - it might take a bit longer than normal. If you have any further questions please email reception@crescentarts.org. Please allow 7 working days for a response.
Creative Learning - Spring Term (20 April - 28 June 2020)
Our Spring Term was published online in early March. Some of you have already purchased Courses and Workshops. If, as is likely, many of those courses won't run in the same way, we will of course offer refunds. As above, please bear with us if we are a bit slower than usual to process these refunds - thank you for your patience.
However, rather than fully cancelling a whole Term, which has implications particularly for our Tutors who have made plans to teach, we are seeking to find alternative ways of working. People tell us that the social and connecting aspect of our Creative Learning activity is powerful, and particularly at a time of increased social isolation, we'd love to find ways to continue to provide connectivity, learning and fun, in a non-contact way.
A number of our Tutors are already proposing online teaching, and over the next weeks we will seek to clarify, on our website, which courses and workshops will be available. As you will anticipate we hope to keep in particular elements of the following two Programme strands: Creative Writing; Language & Culture.
We've got other ideas about how you can share your creativity and keep connected with us in these unusual times. Please keep an eye on our website and on social media.
Please note:
We won't be doing our usual printed programme for the Spring Term (Please tell your friends who might not be frequently online - we know many people look forward to it through the letterbox)

It is likely that we won't run a full 10-week Spring Term, but spend some time thinking and preparing, and bring you a shorter Term, from mid-May. Tutors - we will be in touch - this is not necessarily going to be straightforward to manage - please bear with us as we also 'Try Something New'!
Creative Learning - Summer Term (20 July - 30 August 2020)
As many of you know, last year we introduced a Summer Term to the Creative Learning Programme, and were planning to do the same for 2020. We'll need a bit of time to consider the evolving situation, and will keep you updated.
Creative Learning - Autumn Term (14 September - 13 December 2020)
Our Autumn Term dates for your diary.
Crescent Engage: Outreach & Education
Our work in this area is temporarily suspended. We apologise to all our partners and participants involved.
We make particular reference to CAYT - Crescent Arts Youth Theatre - who have been working so hard on their National Theatre Connections Production 'A Series of Public Apologies' by John Donnelly.
The CAYT Home show took place at The Crescent and was a great success.
We hope there'll be a means for them to present their work with the other Youth Theatre Groups in due course.
Belfast Book Festival - 5- 14 June 2020
This year is our 10th anniversary. At the time of writing it is highly unlikely that the Festival will take place in June, and in the way we originally envisaged, but we will keep everyone updated as soon as a firm decision has been reached.
The Building
The Building will be temporarily closed to the public from 17h on Friday 20 March. We will remain open for a period for Staff and Creative Hub Companies.
You can still get in touch with us via email (info@crescentarts.org) or on Twitter or Facebook.
With best wishes from us all at The Crescent; with solidarity to all our friends and colleagues across the culture sector and beyond. We look forward to welcoming you back to The Crescent.
Sophie
Chief Executive
The Crescent
17th March 2020