The Crescent Arts Youth Theatre from Belfast selected to perform new play at National Theatre
22 May 2023
The Crescent Arts Youth Theatre has been selected to perform a new play on the Dorfman Theatre stage at the National Theatre as part of the 2023 Connections Festival from 20-24 June.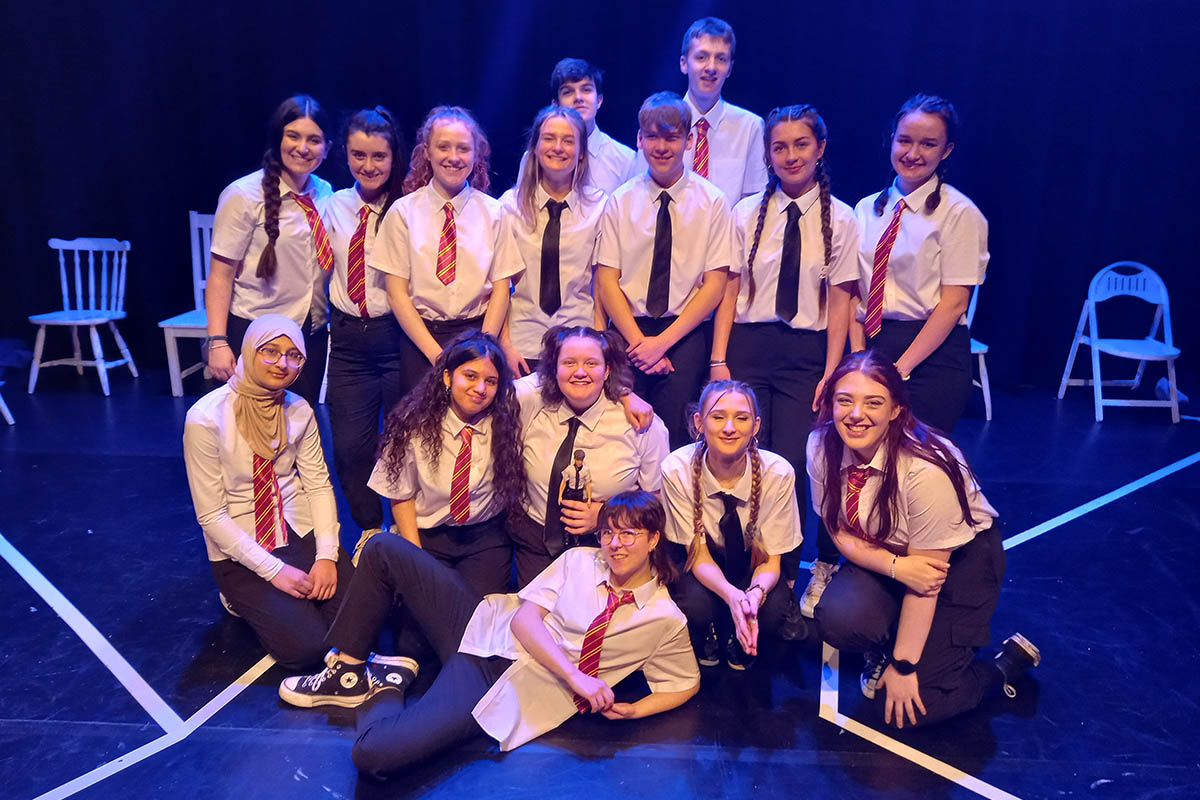 The Crescent Arts Youth Theatre from Belfast will perform Strangers Like Me, a new play by Ed Harris on Saturday 24 June as one of ten companies representing the talent of young people across the UK at the 2023 Connections Festival. Crescent Arts Youth Theatre first performed the play at Connections partner theatre Lyric Theatre Belfast.
The Crescent Arts Youth Theatre is run by the Cresent Arts Centre, a cultural hub in South Belfast, and is open to young people from across the city and beyond, with creativity, community and kindness at the heart of its ethos.
The annual nationwide youth theatre festival, now in its 28th year, celebrates young talent with 5,600 young people aged 13-19 performing one of ten new plays from established and emerging playwrights including Lisa McGee (Derry Girls) and Shamser Sinha (Three Sat Under the Banyan Tree). 264 groups have had the opportunity to perform their selected play at one of our 36 leading partner venues, including Lyric Theatre Belfast.
These ten plays, commissioned by Connections for young people to perform, explore themes of justice, grief, love, teamwork, friendship, rural life, the end of the world and the climate emergency. Participants are involved in all aspects of the theatre making process both on and off stage and off. This includes getting involved with costume, lighting and set design.
Andrea Grimason, group leader of The Crescent Arts Youth Theatre, said, "Inspiration, challenges and empowerment for young people are at the heart of this creative programme, there's nothing else quite like it. The Crescent Arts Youth Theatre being selected for the National Theatre Connections Festival has been a proud and poignant moment in our young people's lives. This experience will inform and shape their futures, of this I have no doubt."
Jessica McGrath, a young participant, said, "The Crescent's youth theatre is the place to be yourself, to explore the world, to find your voice and find your people. Strangers Like Me has been a challenging play tackling the big issues of grief and loss, rarely talked about but universally experienced. We've loved the humour and the honesty and we have loved our physical approach to the performance and the chance to perform at the National Theatre as part of the Connections Festival is amazing."
Rufus Norris, Director of the National theatre said, "Watching talented young people from across the nation bring to life these new plays through the Connections Festival is a highlight of the National Theatre calendar. We hope all those who have participated this year have been inspired by what they have created and how they have created it. I can't wait to see the Dorfman Theatre bursting with the talent from the selected ten groups as they represent the passion and imagination of young people today."
To represent the vast range of young talent across the UK, The Crescent Arts Youth Theatre and nine other companies have been invited to bring their performance to the Dorfman stage at the National Theatre.
All performances will be captioned.
Tickets are £5 each, or £8 for both shows each evening and are on sale now. To book tickets visit the NT Website.
About Strangers Like Me by Ed Harris
A play about grief, masculinity, relationships and friendship.
Elbow's best friend, Hamster, has unexpectedly died. Everyone expects Elbow to be grieving... right? But Elbow isn't sure how to do it. Privately, Elbow is beginning to feel they weren't even as close as everyone makes out. It would be better if everyone just left Elbow alone – his mum, dad, stupid big brother, Donut, but especially all those annoying kids at school pretending they really care by writing poems, singing songs and holding a vigil at Elbow and Hamster's favourite meeting place. Who do they think they are? Elbow doesn't know. He just has a strange feeling inside – an absence of feeling at all.
« BACK