The Belfast Book Festival 2021 programme has been released!
13 May 2021
Belfast Book Festival makes a welcome return from 10 - 13 June with an online programme of live events for book lovers, covering everything from love and politics to Cinderella as a zombie!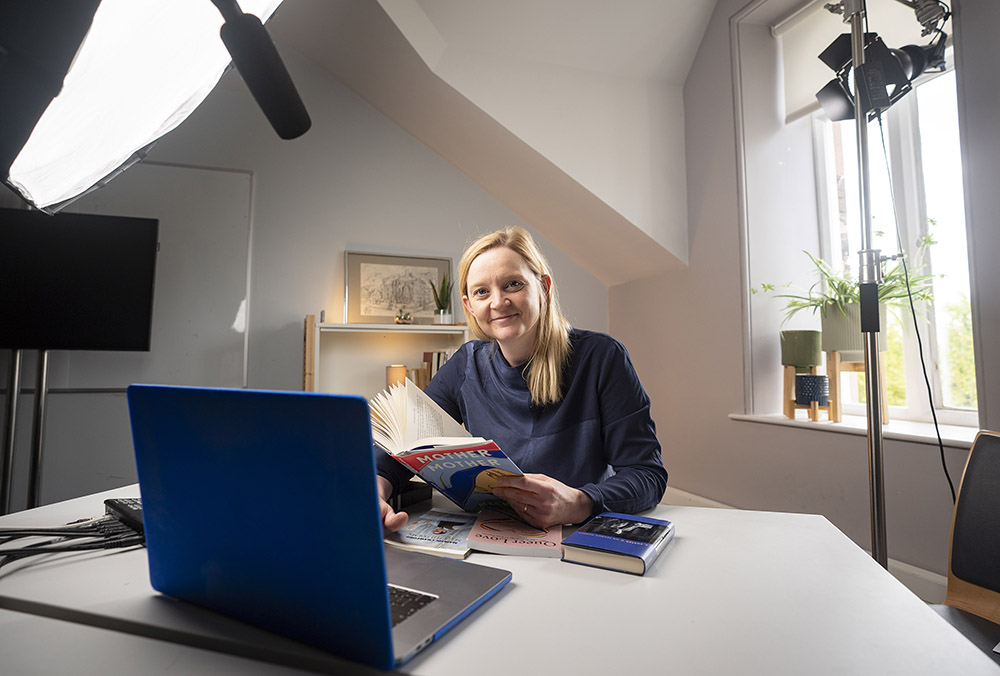 This year's festival covers a wide variety of themes - including feminism, grief, family, disability, sexuality, body image and the care system.
Presented by the Crescent Arts Centre, highlights of the festival include Annie Macmanus (BBC Radio 1) unveiling her debut novel 'Mother, Mother' which is set in Belfast; Ian McElhinney ('Derry Girls') and literary biographer Roy Foster exploring the work of Seamus Heaney; Glenn Patterson ('The Northern Bank Job') in conversation with author Conor O'Callaghan; Colm Tóibín ('Brooklyn'), reading from 'Queer Love: An Anthology of Irish Fiction' and a special recorded performance from the official poet of the 2012 London Olympics, Lemn Sissay.
Setting the scene for this year's Belfast Book Festival, Sophie Hayles, Chief Executive of the Crescent Arts Centre, said:
One of the silver linings of the past year is that many people have rediscovered a love of reading in lockdown. This year's Belfast Book Festival embraces that spirit with a superb line-up of writers, poets, authors, thinkers and doers.

This year's event will have a really open and interactive feel, with tickets being priced at either £3 or free and audience members being able to ask questions of their favourite writers. Our guests will join us virtually while our event hosts will stream their discussions live from the Crescent.
Multi-award winning author and Belfast Book Festival patron Lucy Caldwell returns with short stories of love, loss and exile in her new collection, 'Intimacies', in the company of fellow author Louise Kennedy ('The End of the World is a Cul de Sac') and actor and journalist Mira Sethi ('Are You Enjoying').
Offering an enthralling dissection of love, commitment, power and privilege in contemporary Hong Kong, Naoise Dolan will discuss her debut novel 'Exciting Times' in the company of author Joanna Walsh ('Seed') and chair, journalist John Self.
Over 90 poets, authors and playwrights - established, emerging and first-time - have come together to create 'Her Other Language: Northern Irish Women Writers Address Domestic Violence and Abuse', an anthology that aims to raise the ongoing issue of domestic violence and abuse, and shine a spotlight on women's writing. Editors Ruth Carr and Natasha Cuddington will introduce the project and host readings from six of the contributors.
In Northern Ireland's centenary year and in a turbulent time for unionism, two of our most respected political journalists - Susan McKay and Amanda Ferguson - come together to discuss Susan's new book, 'Northern Protestants: On Shifting Ground'. Featuring over 100 new interviews with people including Toni Ogle, Dawn Purvis and Sammy Wilson, the book covers a range of social justice issues and campaigns, particularly the ongoing fight for LGBTQ+ rights.
Our stories about ourselves are one of the main things that define us, but what about the stories of children in care? In partnership with Barnardo's NI, 'Understanding Our Stories, Understanding Ourselves' looks at the psychological nature of storytelling, with ests who have either personal or professional experience of the care system: poet Lemn Sissay, journalist Alex Kane and psychologist Dr William Coman.
There are events for younger audiences too, with children's author and poet Joseph Coelho reading from his deliciously creepy take on Cinderella - 'Zombierella'.
Women's bodies in Ireland have been a topic of debate for generations. Author and poet Doireann Ní Ghríofa ('A Ghost in the Throat') and writer and podcaster Sophie White ('Corpsing: My Body and Other Horror Shows') write about the subject with aching honesty and humour and join chair, journalist Aine Toner, to share their experiences.
In addition to the June event, Belfast Book Festival is also planning a number of year-round events, featuring artists including author Bernard MacLaverty, Paul Muldoon and Elizabeth Day. Further details of these events will be announced soon.
For full Belfast Book Festival programme details and to book tickets - priced either £3 or free - visit www.belfastbookfestival.com
« BACK