A Brush with Nature Contemporary Chinese Painting Exhibition
26 February 2018
People in Northern Ireland are in for a treat when they come to see this amazing exhibition of contemporary Chinese painting in the Crescent Arts Centre, Belfast during the Chinese New Year fortnight (16-28 February). Over 50 beautiful paintings are on display, exquisitely mounted on Chinese silk brocade as hanging scrolls or in traditional frames.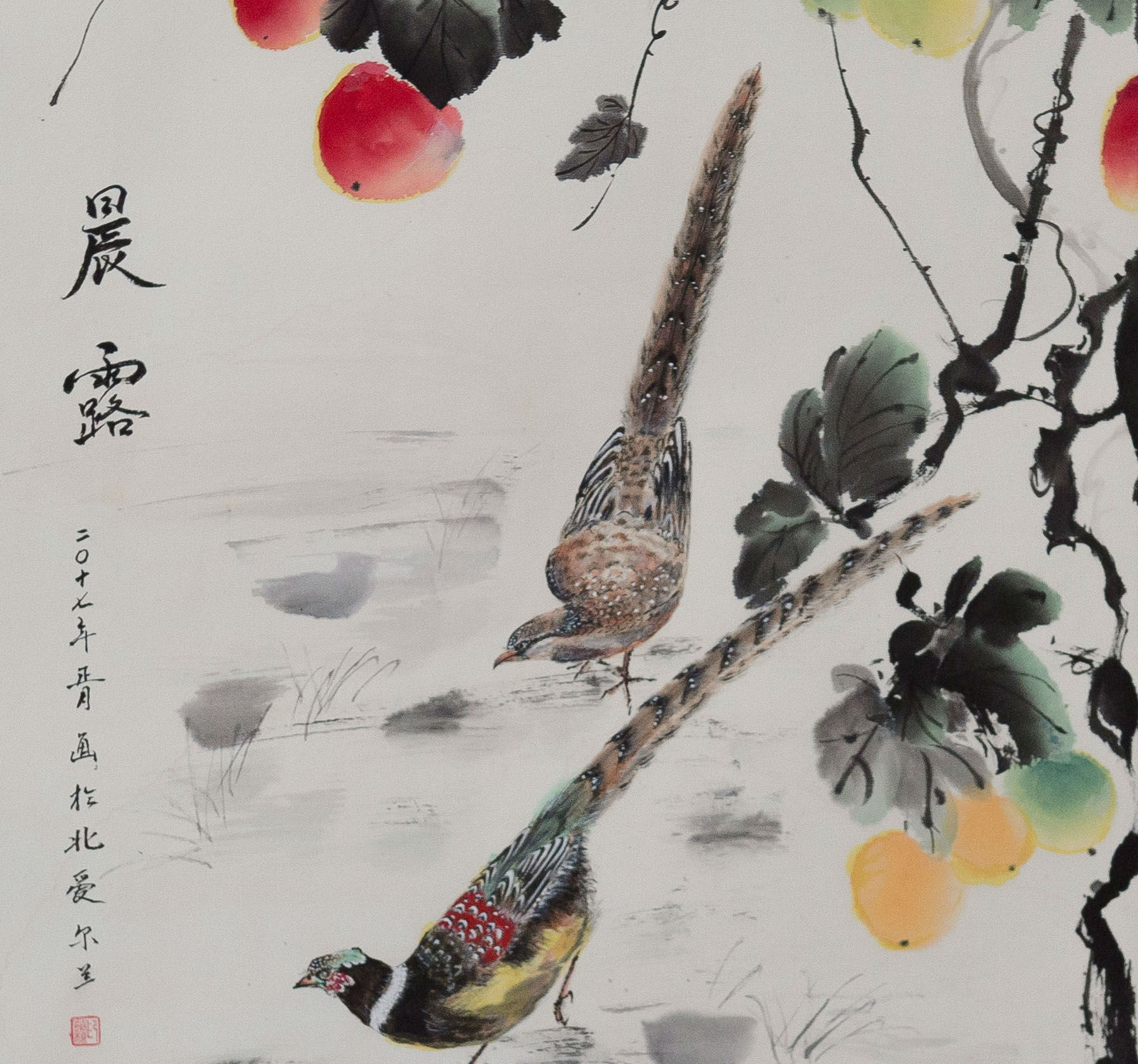 Chinese painting is one of the oldest continuous artistic traditions in the world. Traditional Chinese painting uses many of the same techniques as calligraphy, where gesture and control of the brush form part of the artistic method. Since earliest times nature, in particular the landscape and the creatures that inhabit it, has been the main source of inspiration for Chinese artists.
Rong-Gen Yin originally from Shanghai, began painting in the traditional Chinese manner in the 1970s. During the 1980s he was a member of an artist collective and had occasions to tutor painting in Japan and Germany. Having come to Northern Ireland in 2003 Rong-Gen has continued to paint and teach traditional Chinese painting techniques. Rong-Gen practises the two main techniques of Chinese painting – Gongbi, where intricate brushstrokes form detailed coloured landscapes, which can include narrative themes and Shui-mo, which is much looser using bold brushstrokes and watercolour wash.
The High Sheriff, Councillor Carole Howard, who officially launched the exhibition, said: "I am delighted to be here today to open the exhibition. The Chinese community is one of the largest and longest established ethnic minority communities in Northern Ireland, making economic, social and cultural contributions to society. The Chinese New Year is celebrated in many towns and cities in Northern Ireland and I am pleased to be at the opening of the exhibition to herald in the Year of the Dog."
The former MLA Anna Lo, who organised the exhibition commented: "Chinese people are very proud of their long history and rich culture. Rong-Gen, a very talented artist, has enthused many local Chinese residents including myself in his art class in the Chinese Resource Centre in the last three years. I am delighted that the exhibition, which showcases the exquisite nature of traditional Chinese painting, will not only be seen by the people of Belfast, but will also attract new audiences across Northern Ireland when it goes on tour."
The exhibition is supported by the National Museums NI, Northern Ireland Museums Council, the Framing Table, Belfast, and the Crescent Arts Centre. It runs from February 16 to 28 in the Crescent Arts Centre, 2-4 University Road, Belfast, from 10 am to 6 pm, with daily demonstrations by the artist from 1.30 to 3.30 pm.
Following the Belfast exhibition, the paintings will go on tour to regional museums across Northern Ireland over the next two years.
« BACK