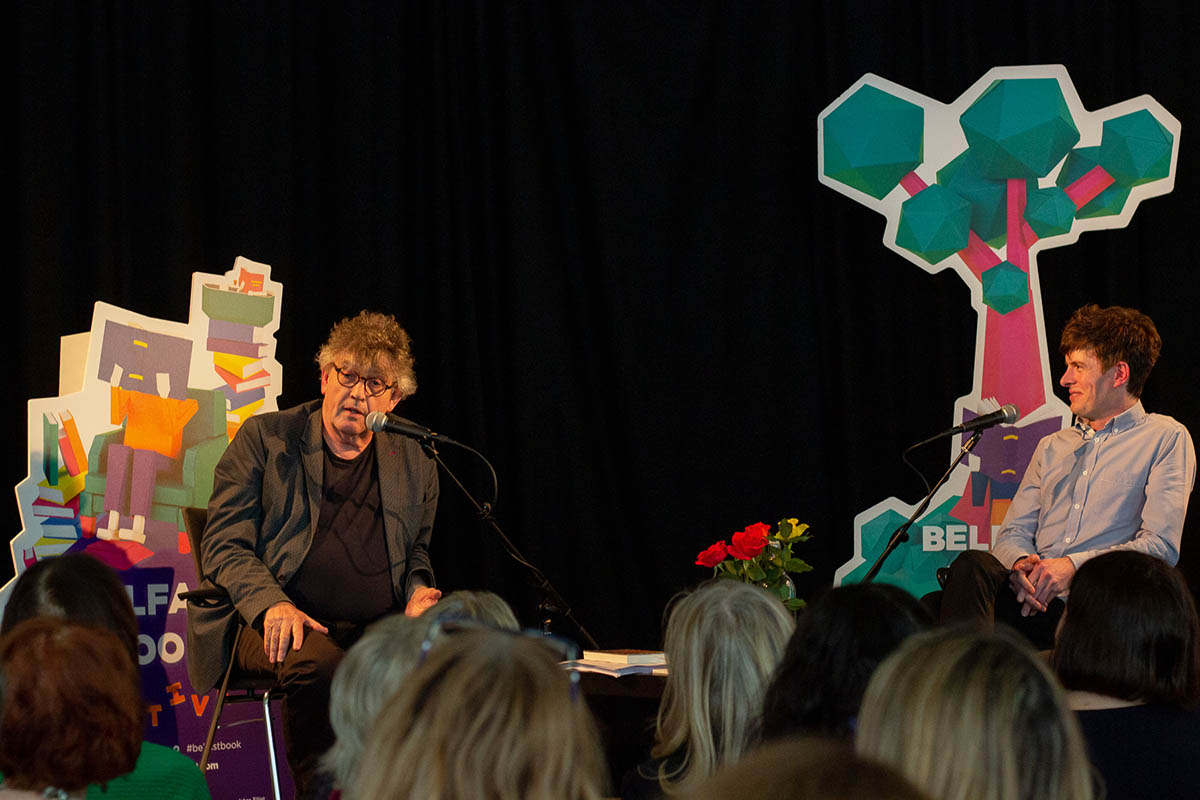 Here are some key highlights for the Belfast Book Festival across the years;
2021
BBC Radio 1 DJ Annie Mac in conversation with writer Wendy Erskine discussing her debut novel 'Mother, Mother' which is set in Belfast;
Ian McElhinney who joined literary biographer Roy Foster to explore the work of Seamus Heaney;
Glenn Patterson chatting with author Conor O'Callaghan;
Author of the novel Brooklyn, Colm Tóibín and Paul McVeigh to read from and discuss a new anthology of Irish ficiton Queer Love
Multi-award winning author and Belfast Book Festival patron Lucy Caldwell joined us to talk about her new collection of short stories
Two of Northern Ireland's most respected political journalists Susan McKay and Amanda Ferguson came together to discuss Susan's new book, 'Northern Protestants: On Shifting Ground';
and a special recorded performance from the official poet of the 2012 London Olympics, Lemn Sissay, who also joined us for a second event where he chatted with political commentator Alex Kane.
2020
Sadly, because of the problems caused by the Covid-19 pandemic, the Belfast Book Festival did not take place in June 2020. However, we were delighted to continue to run the Mairtín Crawford Awards.
2020 was the 4th edition for Poetry and the 3rd for Short Story and our most successful year to date. We received a record-breaking number of submissions for both Awards (over 3 times on previous years).
The winner of the Maírtin Crawford Award for Poetry 2020 was Alan Weadick. Click here to read Alan's winning work.
The winner of the Maírtin Crawford Award for Short Story 2020 was Sarah Gilmartin. Click here to read her winning work.
We were honored to have Moyra Donaldson and Naomi Foyle for Poetry, and Lucy Caldwell and Rachael Kelly for Short Story as our esteemed Judges.
2019
Acclaimed Irish novelist Roddy Doyle was joined in conversation with Glenn Patterson to discuss his work, including his twelfth novel, Charlie Savage.
Renowned chef, restaurateur, food writer and judge of The Great British Bake Off Prue Leith joined us to talk books, cakes and necklaces.
We welcomed renowned journalist and commentator Paul Mason back to the Festival to discuss his new book Clear Bright Future: A Radical Defence of the Human Being.
One of the most influential feminists, Naomi Wolf, joined us to discuss new book and her fascinating career as a social activist, bestselling author, journalist and former political advisor to Al Gore and Bill Clinton.
Former hostage Terry Waite, was joined by Alex Kane, to discuss his fascinating book, which tells the story of him being kept hostage in Beirut for a total of 1,763 days.
The Sunday Times bestselling author Alan Johnson joined us to talk about his third memoir, which talks through his life as a young aspiring musician, a prominent Union member, an MP and a member of the New Labour cabinet.
The author or numerous best-selling novels including The Absolutist, The Heart's Invisible Furies and The Boy in the Striped Pyjamas, John Boyne, joined us to discuss his multifaceted writing career.
Extravagant and grotesquely fantastical, Will Self joined us to talk about his writing, that shifts our perspectives by creating a variety of vastly unstable versions of the world.
In partnership with the Seamus Heaney Centre, we celebrated the 80th Birthday of the renowned poet and national treasure, Michael Longley, with an evening of conversation, music by Duke Special and readings, including by the man himself.
In partnership with the Seamus Heaney Centre, we were delighted to welcome to the Festival, the Poet Laureate of the United States, Tracy K Smith, for an evening or readings and conversation.
The UK's foremost forensic pathologist Dr. Richard Shepherd joined us to talk about his book, Unnatural Causes, which charts his 25 year long career.
We welcomed poet, lyricist, librettist, translator, critic, editor and professor, Paul Muldoon, to The Crescent to discuss his career that spans decades and genres.
David Kogan opened the 2019 Belfast Book Festival as he discussed his new book, Protest and Power, with local commentator, Alex Kane.
Joined by BBC's Seamus MckKee, former MP, Foreign Secretary, doctor and founding member of the SDP, Lord David Owen, offered us a new way of seeing Trump.
Award-winning journalist, Reni Eddo-Lodge, was joined by Emma Dabiri to discuss her multi-award winning book, Why I'm No Longer Talking to White People About Race
Food writer, journalist and fearless campaigner, Jack Monroe, joined us to discuss his latest book, Tin Can Cook, which was a timely recipe book in the age of austerity and the society we live in today.
2018
Acclaimed journalist, broadcaster and former Downing Street Press Secretary and now prolific novelist Alastair Campbell at Windsor Park
Award winning comedian, writer and actress Francesca Martinez at The Crescent
Champion motorcyclist, truck racer and television presenter Steve Parrish at Malone Lodge Hotel
Internationally renowned speaker, mathematician, scientist and philosopher John Lennox at Fisherwick Presbyterian Church
Best-selling author on the subjects of Nutrition and Health, the Medicinal chef Dale Pinnock at Hillmount Garden Centre, Belfast
Guillem Balagué Sky Sports journalist and author of best-selling biographies on Pep Guardiola, Christiano Ronaldo and Lionel Messi at The Black Box
Adventurer, environmentalist, speaker and writer Huw Kingston at The Crescent
The guys behind The Guardian's political sketches John Crace
Donal Scullion led a special guest band at the Strand Arts Centre for Astral Weeks: The Music And The Myths Of Van Morrison featuring a set in tribute to the album that blessed us with such tracks as Madam George, Cyprus Avenue and Sweet Thing.
Renowned broadcaster, defender of the arts and protector of journalistic freedoms John Tusa
Sir Robert Salisbury, in the beautiful setting of the Botanic Gardens Palm House, talked about the inspiring story of how he and Rosemary transformed an unloved rural wasteland into a thriving, renowned wildlife garden
The Queen of Scottish stand-up and perennial thorn in Donald Trump's side Janey Godley
James Harpur, Mark Roper and John F Deane hosted an evening of readings from three superlative poets at The Crescent
2017
Renowned political scientist, activist, distinguished professor and prolific author Norman Finkelstein
Comedian and actress Sara Pascoe discusses her debut book Animal which explores the forces that mould and affect modern women
The stars of the international smash hit podcast My Dad Wrote a Porno which recently sold out Sydney Opera House
Author of the best-selling book Captain Corelli's Mandolin Louis De Bernieres
Mum, wife, blogger and bestselling author The Unmumsy Mum Sarah Turner
British author, journalist and political commentator Douglas Murray
Editor at large at The Guardian Gary Younge
The launch of the inaugural Mairtin Crawford Award's for Poetry and Short Story
Co-founder of the Women's Equality Party and former editor at large of TIME magazine Catherine Mayer
2016
The Jam's drummer Rick Buckler discussed his book That's Entertainment: My Life in the Jam at The Black Box
John Challis (Only Fools and Horses) chatted about his life in show business as well as his books Being Boycie and Reggie:A Stag at Bay
Award-winning journalist David Aaronovitch discussed his memoir Party Animals
Financial and economics expert Paul Mason chatted about the state of the world economy, Brexit and much more
Leading contemporary novelist Dame Fiona Kidman spoke with Cathy Brown about her book on the 1930s aviator icon aka 'Garbo of the Skies' Jean Batten
Award winning Kate Tempest had a chat with Jan Carson about her debut novel The Bricks That Built The Houses

Human rights activist Hyeonseo Lee discussed her memoirs and her work on human rights as well as refugee issues
93 year old Harry Leslie Smith brought his unique perspective on the NHS cutbacks, benefits, political corruption and much more with Harry's Last Stand
Spoken word artist Hollie McNish discussed her book with is a unique blend of poetry and storytelling
Maverick film-maker Alex Cox discussed his book for aspiring filmmakers at Crescent Arts Centre
Rebecca De Saintonge's One Yellow Door explored the conflicting emotions of infidelity where one partner is severely disabled
Poet Sinead Morrissey and composer Piers Hellawell presented their collaborative works
Petrol heads fans enjoyed hearing Liam Beckett's discuss Full Throttle which explores his partnership with Robert Dunlop